Within the main lodge area, French doors open onto a large expansive deck area where guests can enjoy the wider views of the lush Tongariro riverside environment, listen to bird songs and feel at peace. Our beautiful lodge has been awarded first place in a prestigious New Zealand Architectural competition, testimony to the quality and style of our accommodation and its surrounds.
Guest rooms in the Lodge
Our three well-appointed rooms will make your stay thoroughly enjoyable. All rooms include tea and coffee making facilities available in every room.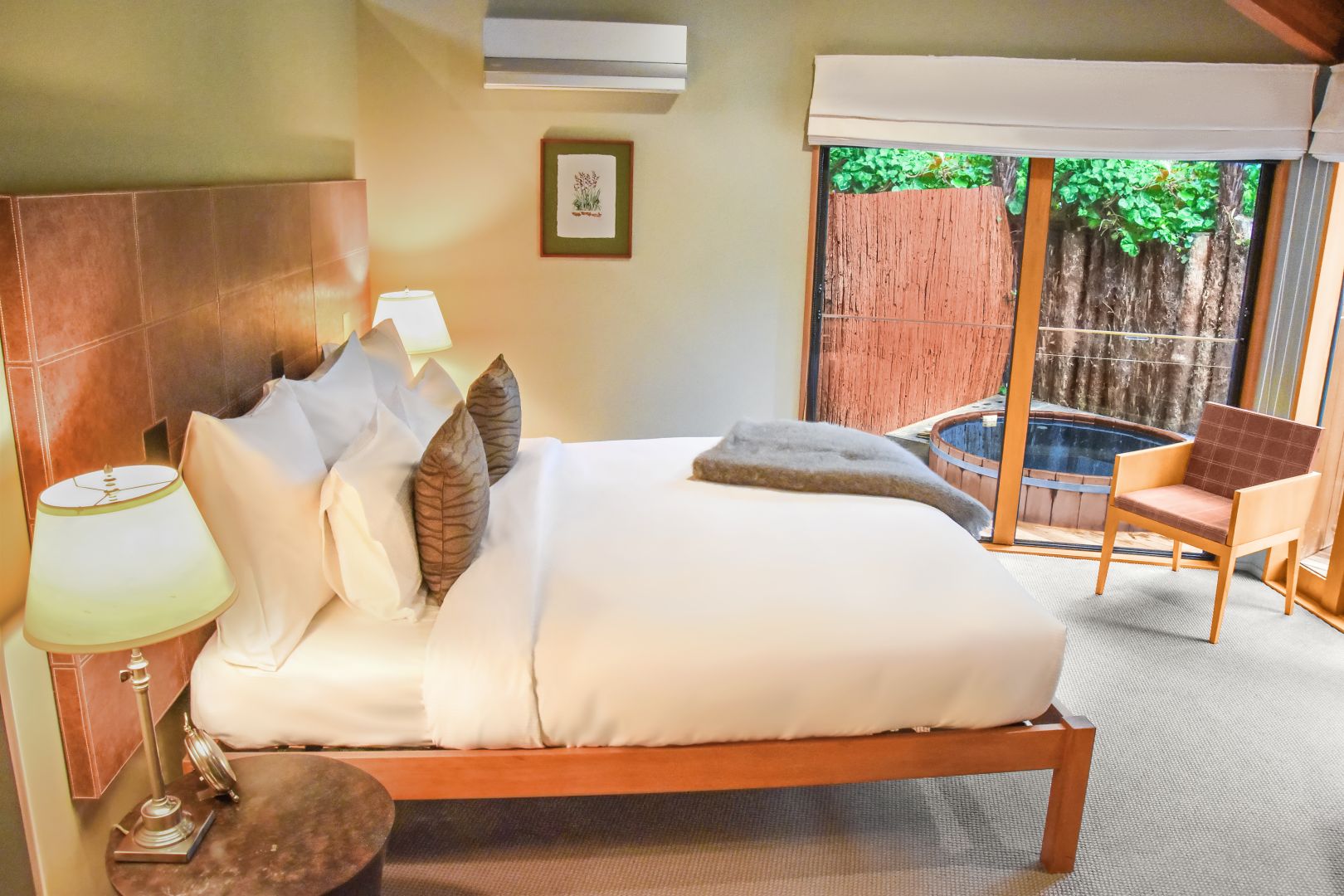 The Admiral's Room
The Admiral's Room offers a soothing cedar hot tub to soak in after a long day's hiking, trout fishing, or sightseeing. Gaze at the stars, sip a glass of wine and completely unwind. This room also has Netflix, Sky TV, DVD player, tea and coffee making facilities, and a minibar stocked with fine New Zealand wines, artisanal sparkling water, and a micro-brewery beer selection.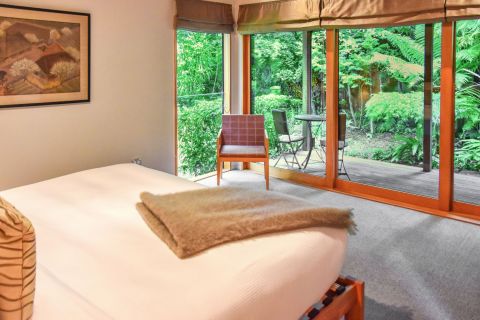 The Major's Room
Standing apart from the main Lodge, the Major's Room offers privacy and peacefulness within a lovely garden setting. Relax and enjoy the comfort of this beautifully appointed room featuring a bathroom with its own private garden, tea, and coffee making facilities.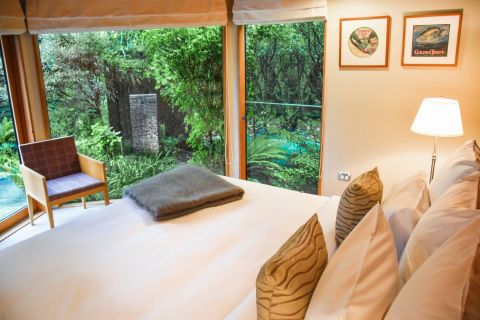 The Duchess's Room
Cozy, welcoming, and relaxing, the Duchess Room enjoys a superb vista of the garden areas with both the room and bathroom looking out onto a private garden setting. This room enjoys the morning sunshine and features the same appointments and facilities as the Major's room.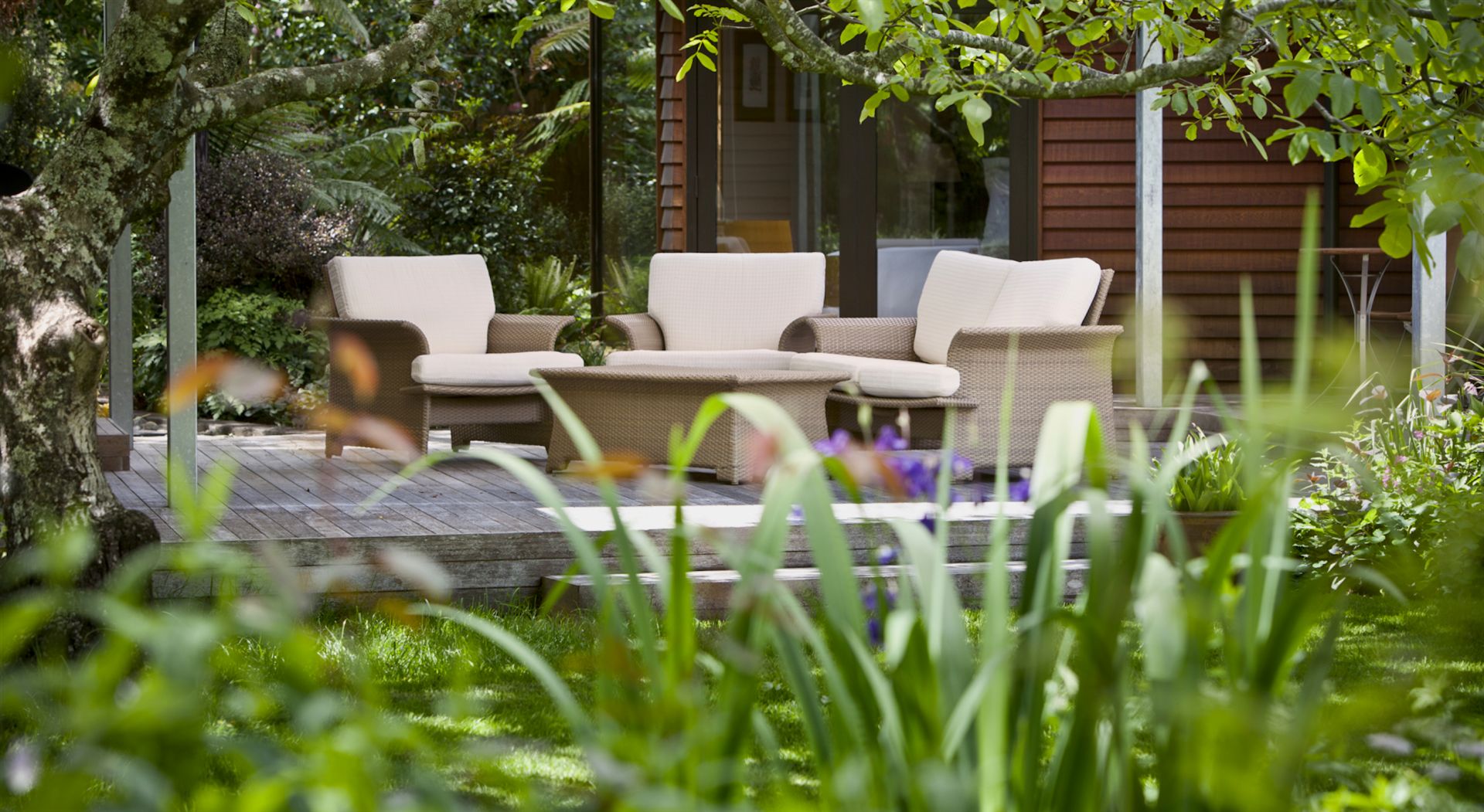 Single party booking
Choose a single party booking if you'd like to enjoy a private and exclusive visit to River Birches Lodge, including breakfast and use of the Lodge facilities. Contact us for further details.
RATES
Children staying at the Lodge
1 child 9 years of age and under, sharing a room with parents, using the existing bedding configuration FOC.
Crib available by prior arrangement FOC.
Rollaway bed available only in Major's room.
Minimum stay at River Birches Lodge:
Minimum stay 3 nights during 21st December - 7th January
Minimum stay 2 nights during 8th January – 28th February
Meals
Dinner: $135 per person for a four-course meal featuring fresh local seasonal produce. The Lodge ensures our quality produce is sourced from sustainable suppliers and where ever possible directly from farm-to-table. Children 12 years of age and under – $75 per child. Light dinner children 9 years of age and under - $40 per child
A cooked breakfast is included in the tariff. If you prefer something a little lighter, try our continental breakfast of homemade cereals and preserves, fresh seasonal fruit, and yogurt. High-protein or vegan meals and other individual food requirements (within reason) can be accommodated by advance request. We use only the best locally grown, organic produce whenever available.
Turangi and Taupo offer a variety of restaurants catering to a range of tastes. Ask the lodge manager for recommendations.