After indulging in a luscious five-course dinner each night and a gourmet breakfast every morning, embark on one of the world's most phenomenal walks with your own personal guide–finally returning to your splendid lodge room.

The Tongariro Alpine Crossing is a must-do for anyone who visits or resides in our beautiful country. You'll walk amongst absolutely breath-taking scenery, with stunning views of the mountains, pass by historical lava flows, an active volcanic crater, glistening lakes.

Our luxury guided Tongariro Crossing getaway combines comfort, service and indulgence to make the hiking experience the finest in the country. On the night of your arrival, enjoy a delectable five-course feast and complimentary glass of wine. On the following day of your hike, indulge with a gourmet breakfast prepared with fresh local fare to provide a wholesome and energizing and start to your busy day ahead.

Your crossing experience will be safe, enjoyable and eye-opening with complimentary winter hiking gear provided and the added luxury of your own exclusive guide. As one of a small group of select professionals with a concession to guide in the mountain, your guide will come prepared with the equipment, knowledge and experience to hold you in safe hands as they regale you with stories and insights about the history, geography and culture of the phenomenal landscape before you.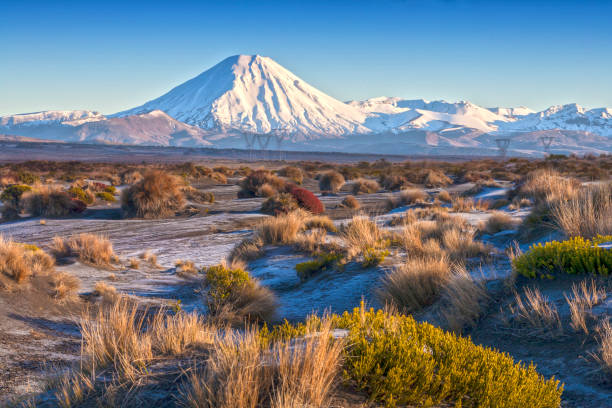 As part of this limited-time offer you will enjoy these inclusions:
Bottle of fine sparkling New Zealand wine on arrival
A delicious five-course dinner for two on your first night. We offer a farm to table dinner prepared by our on-site Chef, sourced from only the very best fresh local produce.

River Birches offers and innovative, five-course, prix fixe menu which changes daily and utilizes organic, seasonal, and local fare. River Birches has an extensive wine & other beverage selections to purchase choose from.

A delectable daily gourmet breakfast is also included. Whether you prefer a light, continental breakfast teeming with fresh, local produce or a hot meal with all the trimmings,

you'll enjoy the best possible start to your day at the hands of our brilliant chef.

An exclusive, privately guided crossing by an experienced mountain guide where, after taking in the most popular vistas, you can escape the crowds and explore rarely seen, superb views of the Tongariro surrounds from special mountain trails.
Rate for two nights (Admiral's Room) NZD $3,165 inclusive of GST
(package must be booked at least 24 hrs prior to arrival)
Our Booking policy:
To make planning your stay with us easier during these special times we are fully flexible. This means that you can amend your booking up until 48 hours before arrival without incurring penalties. In order to secure your booking, we will charge the total amount (accommodation, meals & activities) when the booking is placed. Reservations can be rebooked anytime within 12 months. We will provide a full refund for any cancellations due to governmental travel restrictions. S.tay must be completed by December 15, 2021

Our payment policy:
We will send you a credit/debit card payment link at the time of booking for your total amount including activities. Incidental charges can be settled at the time of checkout by credit/debit card or cash.